Together, we truly make a difference for our customers. It describes our DNA - #OurD9A – and who we want to be, not only today, but also tomorrow. We have a unique, divers, action-oriented community of fantastic consultants. Our expertise is unseen in the market. Every day, we unite business & IT seamlessly, challenge the status quo and go that extra mile, creating magic for our customers.
Start your career at 9altitudes
9altitudes offers a complete training program for young starters so that you can find your way in our world with the most experienced experts at your side. We would like to give you a taste of the consultancy life! This can first and foremost be done through our Young Potentials Academy, which takes place every year.
Take your career to new heights
Experience within the sector is a plus to start your career with us, but it is absolutely not a must. Due to the internal training options, we have a trajectory for everyone with the right attitude, motivation and eagerness to learn. You bring in the enthusiasm yourself, but we work on your knowledge and expertise together.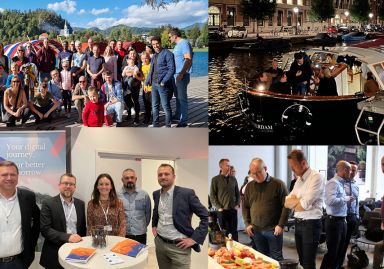 Thinking global.
Acting local.
We employ more than 700 colleagues and operate in more than 5 different countries, keeping our local and 'family' D9A remains very important to us.
9altitudes was created from an integration of several strong local players, each with a specific and successful approach. By connecting these local entities, we increase the expertise and know-how of our organization but are able to remain attentive to the local anchoring and regional approach.
9altitudes has a set of common values and together we reach new heights by sharing expertise, learning from each other, collaborating, sharing successes and growing. As a group we provide a framework for the regions but of course the real work takes place in the local markets - thinking global, acting local.
All about people
We care. We encourage diversity and respect each other. We enjoy the journey as much as the destination.
Together, we make a difference.
Active conversations
We love to think ahead and challenge before we execute.
We advise our clients to make the right decisions together and help them step by step.
Awesome clients
Before we start automating, we listen first. We want to understand our clients and their business.
By adding our expertise on a personal level we get the best collaborations built on trust.
Applied expertise
We believe in continuous learning and are eager to share our knowledge.

We deliver value by making our clients' business processes future proof.
Action-oriented people
Because we start a process with the result in mind.
We say what we think because we know what we are talking about and want to deliver.


We employ more than 700 colleagues and operate in 6 different European countries but keeping our local and "family" D9A remains very important to us. Every hero needs to connect, which is why we regularly organize international and national inspiration sessions, family days & teambuildings. 9altitudes brings people together, wherever you are.
Amsterdam, The Netherlands