Get first insights from your production system quickly
With 9A Connected Factory & Insights, you can gain short-term insights into your machines and production processes. These insights can then be used to make optimizations. These optimizations range from reducing machine downtime to improving product quality, reducing energy consumption or waste, etc.
Because of the quick start, you will gain the first insights after a couple of days, allowing you to get faster ROI from your IIoT project.
Connect your machines. Create actionable insights.
In no time.
Overall Equipment Effectiveness (OEE)
Gain insight into the Overall Equipment Effectiveness (OEE) within your production department and optimize production processes using OEE data.
Bottleneck analyses
Identify the pain points in your production process and where you are losing capacity. Per machine and with the help of a visual representation.
Statistical process control (SPC)
Perform sampling on different parts within your production process and gain valuable insights. Measure Cp and CpK, among others.
An IIoT platform which grows with your business
9A Connected Factory & Insights is based on PTC ThingWorx and developed based on best practices and industry knowledge that gives you a kickstart to a future-proof platform that scales with your business.
The solution allows companies to start with IIoT on a small scale and gradually expand the number of connected machines and dashboards. In time, follow-up projects can also be started to further optimize the performance of your production equipment.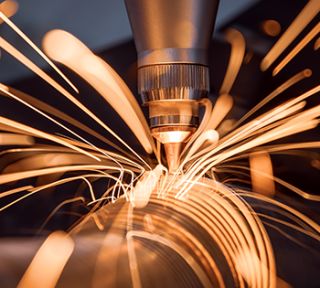 Extensive connection capabilities
9A Connected Factory & Insights is equipped to connect to more than 150 machines. Get data from a variety of machinery, including old legacy systems.
Kick start
Get initial data insights from your production floor within 90 days and achieve Return On Investment (ROI) faster.
Real time data
Get live insights from your machines and make quicker adjustments when problems arise. Reduce machine downtime, lost product and improve the quality of your finished products.
Out-of-the-box reports
Get quick insights from pre-built dashboards based on 9altitudes' industry knowledge and industry best practices.
Multisite
Get an overview of the different production sites within your company or compare the performance of the different sites to work as efficiently as possible.
Platform ready for growth
9A Connected Factory & Insights is built to grow with your business. Invest in an IIoT platform ready for the future and the expansion of your business or scope.
Add context to your data
By linking your IIoT platform to your ERP system, you can gain insights about the production process per product or order. This allows you to optimize your production process per product/order to improve product quality.
Low code platform
9A Connected Factory & Insights can be managed by 9altitudes, but you can also take control of the platform.
Configurable
The IIoT platform is easily adaptable to your specific industry (discrete, process manufacturing,...).
"We reduced our consumption of raw materials by 4% in just a few weeks."