During the search for an ERP system, Maes Mattress Ticking contacted 9altitudes: "9altitudes proposed to implement a part of the solution in the cloud, and to keep the other part on premise," explains Jürgen Van Damme, CFO at Maes. "Because we shared that same vision, we ended up partnering with them."
The hybrid solution of Maes Mattress Ticking
Outdated ERP soution
Maes Mattress Tickings old ERP solution was no longer suported by Microsoft.
Limiting system
It was difficult to respond to new requirements that needed to be added to the system
Hard to adjust invoices
Invoices were rigid documents, to which they could not make any changes themselves.
Lack of insights
To get insight in the business they had to make adjustments in Excel.
"9altitudes suggested that we shouldn't incorporate everything into the ERP package"
Wouter Debonnet
IT Manager at Maes Mattress Ticking
Automated tasks
The new setup automates more tasks then what was possible with the old ERP-solution.
An ERP solution on Cloud
Dynamics 365 FO is regularly updated, which is keeping the system up to date.
Keept the system that works
By connecting the new ERP to the existing MES, Maes Mattress Ticking got the best of two worlds.
An assesable system
While working at home, employees can easily log on to the new ERP solution.
A more flexible system
With 9A Document Management Maes Mattress Ticking can very easy add procedures into the system themself.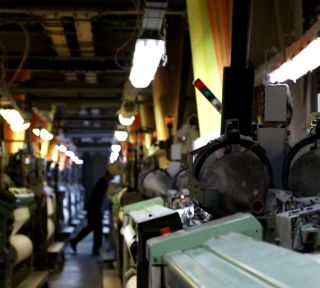 A combination of cloud and on-premise
"9altitudes suggested that we shouldn't incorporate everything into the ERP package," explains Wouter. "They indicated that we should use our already existing MES package for weaving and knitting, because it was made especially for our industry, instead of unnecessarily including that software into the ERP system. In fact, the packages could be connected to each other."
"In addition to the ERP package from 9altitudes, we have an existing MES system from BMSVision," explains Wouter. "This system was developed specifically for the weaving and knitting industry, so all the specifics of our production are packed into the MES system." This solution runs at Maes Mattress Ticking on premise, which means that the data remains on its own server. "On top of that, we have also developed our own software specifically for the weaving and knitting industry, which also runs on-premise."