We know the challenges in the production industry and we have the digital solutions that simplify processes and workflows. That's why we've iterated on Microsoft's standard solutions to offer business systems that support the entire enterprise value chain and daily processes. This means efficient workflows and higher profitability. We focus with this solution on standard production but we also have modules that fit the more individual challenges in project-oriented production companies.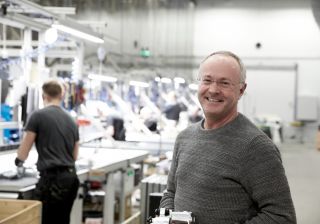 Tangible value
"We can dispose of the goods much more precisely. This helps us increase our delivery rate, based on the customer's expected delivery time. We have simply become better at meeting the customer's expectations and needs."
Jens Lund COO at Budweg Caliper
Calculation, budgets, and quotations
Easy and smart calculation of new items based on raw material requirements, resource, machine time and miscellaneous charges such as freight and indirect cost surcharges. All of this is done in a clear function that creates the necessary base data to create item summary data and calculate cost and sales prices, and thus also create quotations for multiple quantities.

Configuration
The calculations can be expanded with configuration of variants directly for sales price calculation and subsequently also converted to base data on BOMs and production orders. In this way, highly configuring companies will be able to increase the yield of the quotation calculation and make it more sluggish for users to calculate cost price through the system, thus avoiding sources of error.

CAD integration
Once the order is entered into and the production preparation work is started, a new drawing structure with necessary data on material selection, sizing, vendor, etc. is created and this data is automatically transferred from the CAD system to erp journal, where you perform the last adjustment of BOM structure and of route construction.

Master planning
Accurate availability and purchases in the right quantities and time. Purchase proposals are created from item date data on replenishment sequences and quantities, as well as the demand created by orders and production schedules. This means that you get bought into the right quantities and that delivery is done to match the production flow.

Inventory management
With the advanced inventory management in the solution, you can control both warehouses, areas that have specific requirements – e.g. cooling/heating – and you can control it down to the bookcase/shelf level. This functionality is incredibly strong, as it leaves great flexibility to meet necessary requirements, but without it becoming a burdensome daily burden.
Shopfloor
Shop Floor Control is the tool for production and/or project employees to view the priority tasks in sequence, access their drawings, instructions and to register time, material and waste, as well as quality measurements. Shop Floor Control provides opportunities for the individual cells to plan their own daily lives, but can also be set up up to include machine hours that are collected and not employee hours.
Quality control
The solution offers a number of smart options and replaces, for example, Word/Excel and corresponding simple measurement schemes and ensures that data is possible to perform statistics on. The core of the solution are schemas that can be created with different criteria for each item. The schemas are associated with the item number, and it is possible to attach drawing, picture, or other documentation.