How AI Transforms Business Intelligence
As we witness the rapid evolution of Artificial Intelligence (AI), it is crucial to recognize the considerable impact the technology has on the realm of Business Intelligence (BI). In this article, we will explore how AI, particularly generative AI, is influencing the way companies use BI solutions and what it means for businesses moving forward.

A Shift Towards Data Visualization
The sheer volume of data we generate, and store has increased exponentially. While many companies still rely on Excel for reporting, advanced BI solutions have quickly become the standard. It has grown from offering simple insights and visualizations to becoming the top choice for business intelligence tools. It facilitates data exploration by combining the right data and crafting interactive dashboards. These dashboards provide users with data-driven actions and insights in an easily digestible manner. However, is this the pinnacle of intelligence in the business world? The answer to this question lies in examining the role of AI, particularly generative AI, in shaping the way people interact with their BI solutions.

AI-Powered Insights: The Future of BI
One example of AI integration in BI solutions is Copilot for Microsoft Power BI. In an earlier article, we have already introduced Copilot, an AI-powered digital assistant available in several Microsoft solutions.
In Power BI, this tool revolutionizes how business users approach analytics. Users can now simply ask Power BI to generate a dashboard based on their business data. This gives users access to advanced insights at record speed and leverages AI algorithms to provide the most relevant and actionable information.
If you frequently use Power BI, you are aware that several features and integrations already use AI. For example, trend lines, forecasting, and anomaly detections on line charts are examples of AI-augmented visuals.
A while ago, Microsoft took it a step further by adding AI-powered visuals. Some are still in preview mode, but you can find an overview below.
Power BI also has a data science toolkit available. These are integrations for R and Python, statistical languages used by the data scientist.
Those languages can be used as custom models on the Power BI datasets to make manipulations or calculations that are not possible in the standard features. Furthermore, an integration with Azure Machine Learning is available. This way, trained models in Azure AI can be consumed in Power BI. This combination can be immensely powerful in any AI-fueled solution.
Are the traditional Power BI dashboards outdated?
As we move further into the world of data-driven decision-making, it has become increasingly apparent that traditional reports can fall short of supplying actionable insights. Dashboards, while useful for data visualization, may not always convey the most relevant information at the right time and place. To optimally utilize these tools, users often need to engage with dashboards directly to perform in-depth analyses.
In the future, performance tracking for example is expected to only be a component of Power BI. With increasingly intelligent features being added to the Power BI platform, you will get notifications for recommended actions. These recommendations are grounded in both historical data and real-time information, enabling decision-makers to make informed choices based on insights delivered straight to their dashboards. Power BI will be a true coworker for decision-makers. As a conclusion, the traditional BI dashboard still serves as an important basis to start from, but with the new capabilities, you can go further.
Amongst all the announcements that Microsoft did this year about AI and Copilot, there also was Microsoft Fabric. The integration of Power BI inside Microsoft Fabric will accelerate the transformation discussed above and will probably result in even faster and more powerful developments soon.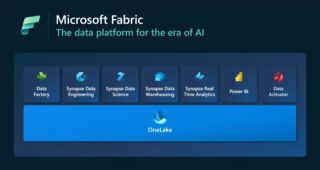 Microsoft Fabric: next-level data analytics platform

Microsoft Fabric, an all-in-one analytical solution for organizations of any scale was introduced only recently and is currently in preview. Power BI is one of the seven core workloads, and it again confirms Microsoft's push to dominate in the AI and data race. One of the workloads for example contains workflows to build AI workflows.
The platform addresses every facet of modern data analytics, encompassing data movement, data science, real-time analytics, business intelligence, and machine learning. We'll go deeper into the possibilities of Microsoft Fabric in a later blog post.
Where does 9A Smart Insights fit into the world of data-driven decision-making?
9altitudes has been investing heavily in 9A Smart Insights for years to bring you a complete BI kickstart solution. It minimizes the time and resources spent on data collection, streamlining the process of creating a proficient data structure for your business. With 9A Smart Insights, you can forget about the complexities of data gathering (from sources like Microsoft Dynamics ERP and CRM, PTC, and Tulip IoT platform with data from inside your factory, …), modeling, or programming. In just a few days, your organization will benefit from a connected data cloud. We not only help kickstart your projects but also maintain your data cloud, allowing you to focus on garnering the right insights from your data.
In a world of data-driven decision-making, it will become even more important for businesses to have a future-proof data architecture. Companies need an effective way to handle diverse data sources, both raw and structured, which reside in data lakes. To extract valuable insights, this data must be organized into a data warehouse—a task beyond the capabilities of AI but one where 9altitudes' kickstart solutions 9A Smart Insights steps in.
Secondly, 9A Smart Insights assists you in keeping up with the constant updates from software vendors—an otherwise time-consuming task that demands niche expertise. This is something that is outside the scope of Microsoft Fabric. We are in the process of launching the 9A Smart Insights version for Microsoft Fabric. They are not mutually exclusive. This robust solution will facilitate the utilization of features like Real-Time Analytics and Machine Learning with greater ease.
In summary, AI is revolutionizing the field of Business Intelligence. It empowers businesses to extract valuable insights from their data more efficiently and make data-driven decisions with greater confidence. By embracing AI-powered solutions like Copilot and leveraging comprehensive platforms like Microsoft Fabric, companies can unlock the full potential of their data and stay ahead in today's rapidly evolving business landscape in an effortless way. In combination with 9A Smart Insights, you can take a head start with a seamless adaptation and integration of your data, even as new software and updates emerge.
R
Programming language specifically designed for statistical and data analysis purposes
Python
General-purpose programming/scripting language commonly used for developing websites, automating tasks, analyzing and visualizing data, ...