How will your field workers react when you give them everything they need at the press of a button? Your field workers are your main asset towards your customers. By optimizing their routines with less paperwork and new digital solutions, you minimize errors and improve customer service.
Stay proactive, with digital insights
Streamline workflows and communication towards both your internal and external customers and stay proactive in servicing the installations – that is how you and your field workers can work smarter and save costs.
Data from installations and field workers are easily combined, which is the best base for calculating service intervals.
Stay ahead of competition with an increased and precise communication with your customers, when data and predictions give the full overview of coming tasks and routes.
Digital integrations to augmented reality devices keeps track of documentations while remote workers are able to service the installations with the guidance of centralized back-office technicians.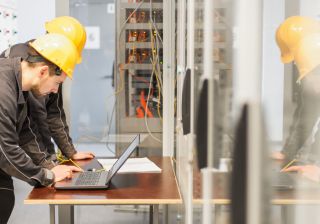 Integrating Dynamics 365 Field Service in your existing business systems, creates a digital thread in your digitalization. By sharing and enriching the data across functions, leaves you with the best overview of your service business.
Kickstart
Kickstart your installation and onboarding, with our simplified implementation process, based on numerous installations.

Integrated
Customers get a better experience of your service because appointments, time registrations, billing and customer information are always up-to-date.
Connect
Connect data from IoT sensors, AR/VR devices and other data sources – directly in to the field service system and keep track of documentation, service intervals etc.
Digitalization
Have your manual process digitalized. This will reduce the risk of errors and keep track of your data and documents. Field technicians get digital sign-off at the customer's premises during the service visit.