A new way of dealing with product-related data
PLM solutions are winning over many major corporations, SMEs and ISEs in the industrial sector. This democratization is a result of the maturity of the technology and its direct impact on the productivity of all departments within the company.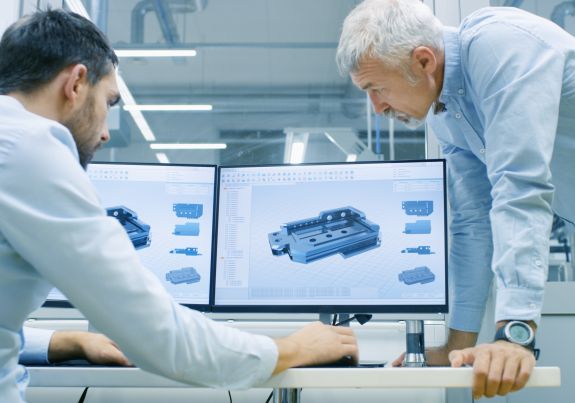 How to get the most out of PLM
How can a software be so effective at streamlining communication between different points in the value chain? In a word: centralization. A PLM tool becomes the single reference tool through which the data can be managed consistently and transferred from one department to another.
A tool that helps everyone: PLMs are like an informational backbone, allowing every employee and supplier to communicate easily about data and ensuring that any changes they make are considered in real time.
Improve productivity: It is important to develop a synergy between the ERP and PLM that allows you to get the best out of both, while limiting all errors and data loss as much as possible.
Encourage innovation: PLM solutions help to abolish structures by undoing the traditional segmentation of application environments, supporting the development of a digital ecosystem that fosters innovation.
Is PLM solution Windchill
made for me?
Winchill PLM solution by PTC is the poster child for the new generation of PLM tools, designed to foster innovation.
Quick wins
Windchill can be deployed in just a few weeks, allowing you to get quick benefits from the solutions
CAD compatibility
Windchill is compatible with all the major CAD tools on the market

User friendly
Its intuitive design makes Windchill easy to master by everyone within the company and amongst the external partners

Interface with ERP
9altitudes has developed an interface so that Windchill can easily be linked to your ERP solution